I thought I would share pictures of the letters I hung up in my girls' rooms.
I know these are nothing new, just wanted to share my take on them!
For Sam's room I found little wood appliqué things at Michaels. The ladybug was already painted, but I had to paint the dragon fly myself. Which was fine because it allowed me to paint them to match her bedding.
I painted the edge of the letters in black, then glued on the appliqué piece. I also used black craft paint to make little trails from the bugs. I love how they turned out!
I loved them so much I actually found full size bedding in the same pattern as her crib bedding so when she moved to her big-girl bed I could keep the letters!
(I think I need to just go back to taking pictures in auto mode for now! I am taking a photography class in April, so hopefully my pics will improve after that!)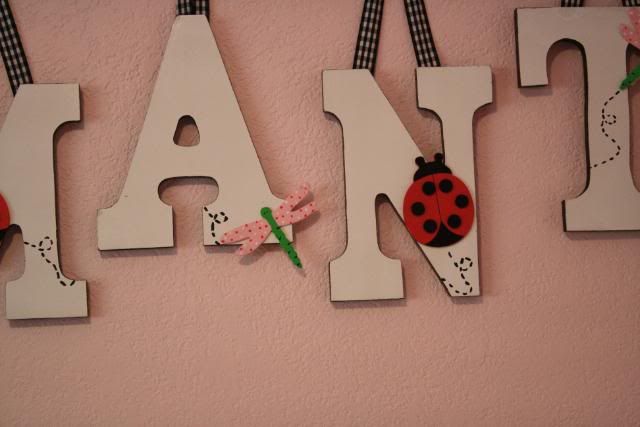 I also found these wood dragon flies at Michaels. I painted them to match her bedding, and attached them to the wall with super strong double sided tape. (And I mean strong, when we moved last year and I took these off her wall in the old house… part of the wall came off too! Oops!)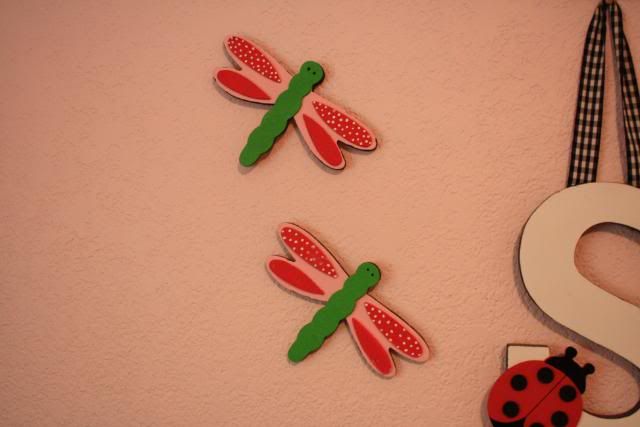 For Sadie's room I went with a different font for the letters. I didn't want them to be too matchy-matchy.
Her bedding is flowers and hummingbirds… and hummingbird stuff is surprisingly hard to find! So I used flower stickers that match her bedding on her letters. I painted the outside of them turquoise since they were going on a pink wall (half her wall is pink, the other half is turquoise).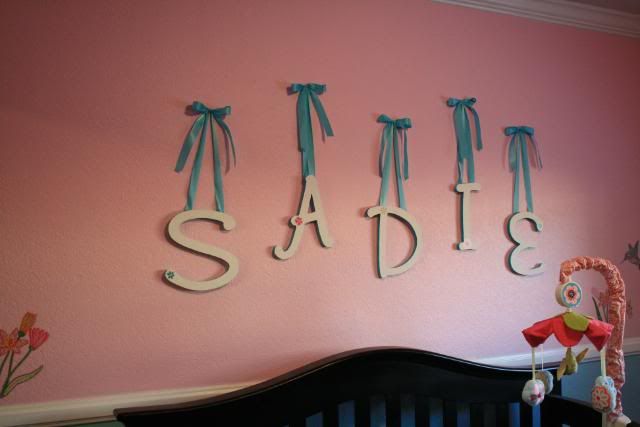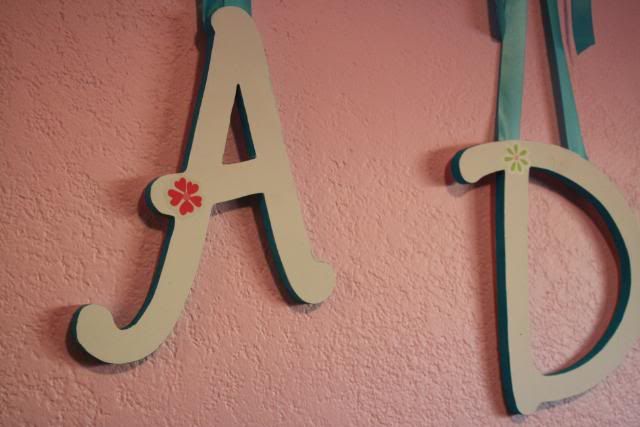 I love how they both turned out!
Depending on the day- here is where I link up!
Creation Corner
,
Kojo Designs
,
Just Crafty Today
,
Yesterday on Tuesday
,
Somewhat Simple
,
Paisley Passions
,
Gluesticks
,
Fireflies and Jellybeans
,
House of Hepworths
,
Lil Luna
,
Little Eme
,
Not Just a Housewife
,
Sugar Bee- Craft Edition
,
Todays Creative Blog
,
Tip Junkie
,
733
,
Polly Want a Crafter
,
Young Nester
,
Sugar and Dots
,
Creations By Kara
,
Between U and Me
,
Chic on a Shoestring Decorating
,
Fingerprints on the Fridge
,
The Girl Creative
,
Debbiedoos's Blogging and Blabbing
,
I Heart Naptime
,
Skip To My Lou
,
c.r.a.f.t.
,
Inspiring Creations