Its Friday again! Man, I LOVE Fridays!!!
It's supposed to be crummy, rainy, cold weather here in So Cal this weekend though. BOO!
And right now the 10 day forecast is showing RAIN  for the big party day! I will CRY if it rains on her party!! It rained last year and well, it just plain sucked. All the kids stuck in the house (and my house is NOT that big for all those kids!).  Gah! Don't want to think of that right now.
Everyone keep your fingers crossed that Mother Nature likes me and keeps it sunny for us next weekend!
Back to this weekend. I actually don't have that much left to do!
finish cutting some castle and princess cutouts on the Cricut

Attach Thank You tags to the goblets (favors)

Finish wrapping the water bottles with the labels

start grocery shopping (cups, drinks…)

wash all the platters- ugh, not looking forward to this
I am sure that I will think of smaller things to do over the weekend, but right now that is all that comes to mind!
Oh- and that appliqué shirt I showed you last Friday? Well, I finished the stitching. Do I like it? Eh-  not really, but what can I do now? Oh well. I added jewels to the top to hopefully distract from the awful stitch job I did on it! Did it work? :)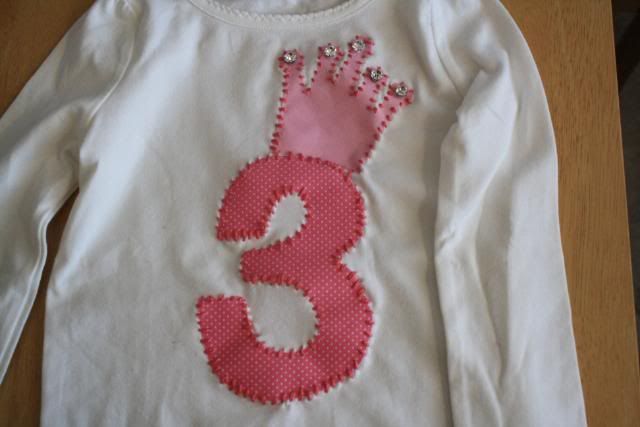 Happy Friday everyone! Hope you all have a great weekend!!
And as always- feel free to comment with your weekend plans! I love to hear what everyone is up to!
Kelly