I have an almost 3 year old. And anyone with kids that age (or any age really!) knows that there is always a ton of artwork being brought home from school. My daughter only goes 2 days a week, but she brings home an art project each time! My fridge just couldn't hold anymore art projects! So one day while cruising around blog land I saw
this
and thought it was the perfect solution! and I had the perfect wall in my kitchen to put it on!
So I made it! I ended up using white cardstock and Mod Podge for the lettering. I didn't have enough white vinyl and I was being lazy and didn't want to go to the store. So I used what I had on hand. I actually think it worked just fine doing it that way!
(Sorry for the crummy pictures. I just got a new fancy camera for Christmas and I still have no idea how to work it! Plus, these were taken at night. A big No-No, I know. Please don't shoot, I promise to work on this! :) )
I decided to add a couple ribbon flowers to mine and I love how it turned out! I also tied tulle and ribbon on each hook :) I love tulle. And ribbon. I couldn't resist.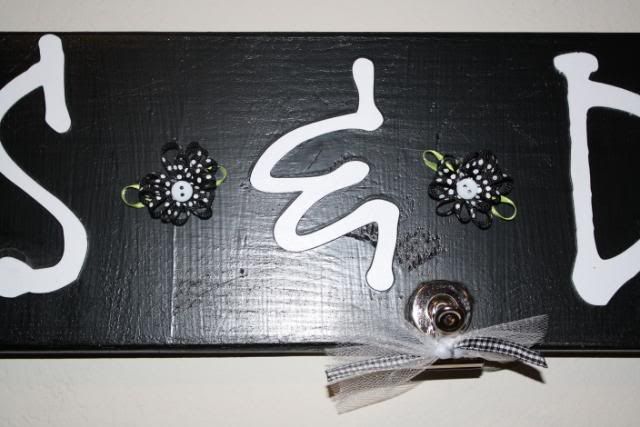 And look how great it looks with Sam's masterpieces hanging! Actually, last night Sam walked into the kitchen and looked at the sign and said "Oh. My. Gosh! It's beautiful! I love it!" hahahaha- she is kinda dramatic. Nothing like her mom.... *wink*
I linked this up over at
http://somedaycrafts.blogspot.com/