Yep- another post about party stuff!
Have I mentioned I LOVE parties? :)
And gumballs. Gumballs are cool too.
I knew I wanted a topiary for the table at the party, but I was going back and forth on what kind. A ribbon topiary? A rosette topiary? (I like the word topiary, it's fun to say. Topiary, topiary, TOPIARY!)
And then I finally had a DUH moment. Its going on a candy table. Make it with CANDY. Pink candy. Pink gumballs to be exact!
I LOVE the way it turned out! I bought a Styrofoam ball and spray painted it pink (could have used a brighter pink, but it still works!) and then hot glued each and every gumball on. It took about 2.5 pounds of gumballs~ that sounds like a lot. I thought so too. I ordered 3 lbs thinking I would have a ton left over. But a pound of gumballs isn't as much as you would think.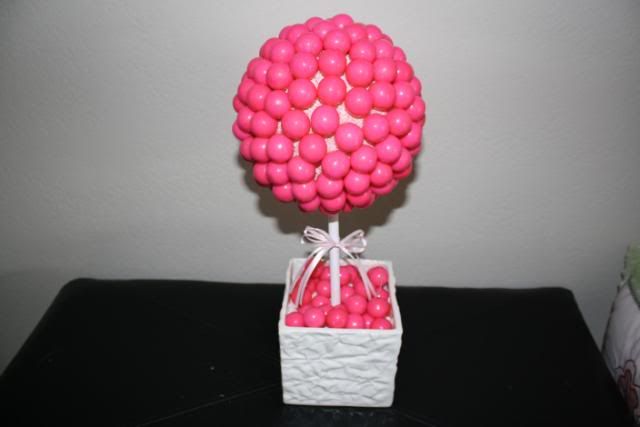 At first I had the extra gumballs in the bottom, but then decided to change it out for the pink shredded paper. Oh and I also changed the bow. This one just wasn't doing it for me. :)
I love blogland because it provides so much inspiration! I could spend hours (and usually do!) browsing all the different blogs out there! It is an addiction of sorts. But it's ok because I get so many good ideas!
I saw this and thought it was perfect for my leftover gumballs! I thought about making these as the favors for the party, but my daughter fell in love with some Princess Goblets, so we are doing those instead! She does have a say in some of the stuff for her party *wink*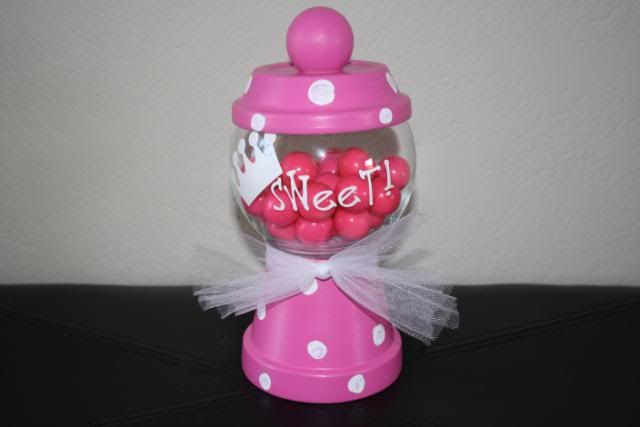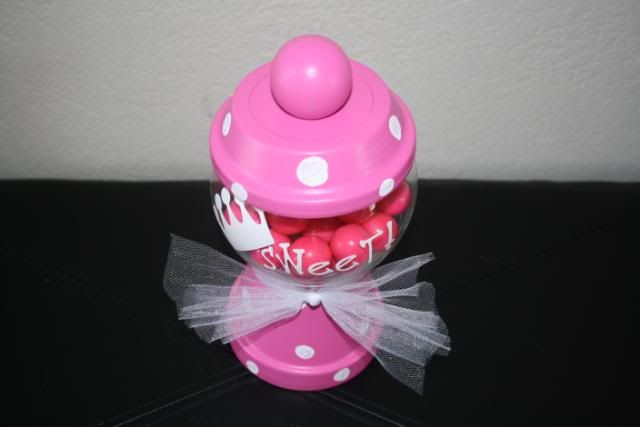 Depending on the day- here is where I link up!
Creation Corner
,
Kojo Designs
,
Just Crafty Today
,
Yesterday on Tuesday
,
Somewhat Simple
,
Paisley Passions
,
Gluesticks
,
Fireflies and Jellybeans
,
House of Hepworths
,
Lil Luna
,
Little Eme
,
Not Just a Housewife
,
Sugar Bee- Craft Edition
,
Todays Creative Blog
,
Tip Junkie
,
733
,
Polly Want a Crafter
,
Young Nester
,
Sugar and Dots
,
Creations By Kara
,
Between U and Me
,
Chic on a Shoestring Decorating
,
Fingerprints on the Fridge
,
The Girl Creative
,
Debbiedoos's Blogging and Blabbing
,
I Heart Naptime
,
Skip To My Lou
,
c.r.a.f.t.