Happy Monday!  Hope everyone had a great weekend!  Mine was WAY too short. I almost turned my alarm off this morning because I thought I set it on accident and that it was still the weekend! Wishful thinking….
So first let me start with the 2-days 2-do list.  Did I get it all done? HA! Not even close.
Make the tutu
Make the appliqué shirt (this should be funny. I have never made one before. Not sure it is going to come out.  Oh and have I mentioned I don't sew?  Well, I don't. I have a sewing machine though, that's gotta count for something…) DIDN'T EVEN START IT. Oops!
Finish the Happy Birthday banner
Make the tissue paper sign (this should be CUTE when complete!) *almost* done. I ran out of tissue paper right at the very end.
Finish the gumball topiary (this IS cute. OMG I love it!!!)
Make the party hat for the Princess Birthday girl Again, didn't even start it
So while I didn't get everything done, at least I was able to cross a few things off my list!
Besides the above, I also made some 5 minute V-day garland I thought I would share with you! I got some new shelves for my house yesterday and begged the hubster to hang them up for me before our guests got there (in about 30 minutes!). Of course he bitched and moaned happily hung them up for me! :)  So I quickly threw up my V-day decorations on my super cool new shelves. While watching the Superbowl I kept looking at the shelves and thinking the needed something.  I came up with this easy peasy V-day garland.  I had some pink and white felt in the garage left over from my yarn wreath so I quickly cut it into strips, then squares (and I mean quickly. These were NOT neat at all.) and then using the technique learned in kindergarten cut those into hearts (fold in half, cut half the heart shape, open up and you have a heart!)! I took some fishing line and a needle and threaded the hearts and Wa-La! Super cute, super easy V-day garland! And yes, I did this while we had guests over for the game. LOL. Luckily they didn't mind!  ( I know, once again I don't take the best pictures. I am trying! The sun was awful when I was trying to get this shot!)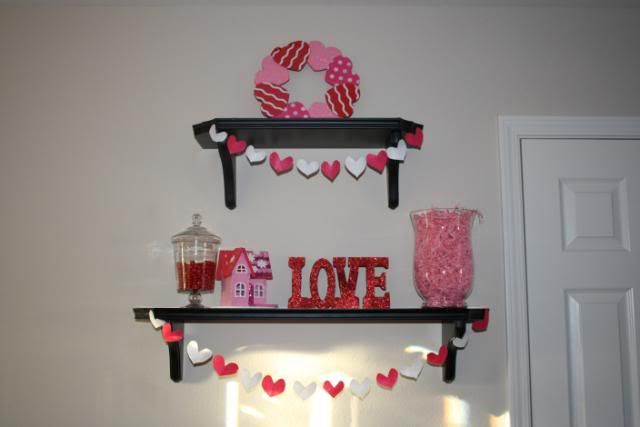 I know my decorations leave a lot to be desired, but they are what I had on hand.  I have been so busy making party stuff, I haven't had time to whip up any adorable Valentine's day stuff.  Maybe next year….
See that house on display? That was made by my SUPER cute daughter Sam!  While walking through Michaels on one of my daily frequent trips, she grabbed this off the shelf and walked around with it on her shoulder like a purse.  Then when we got the the checkout she handed it to the lady and said "Here you go! My mommy will pay for it!"  How do you say no to that?!?!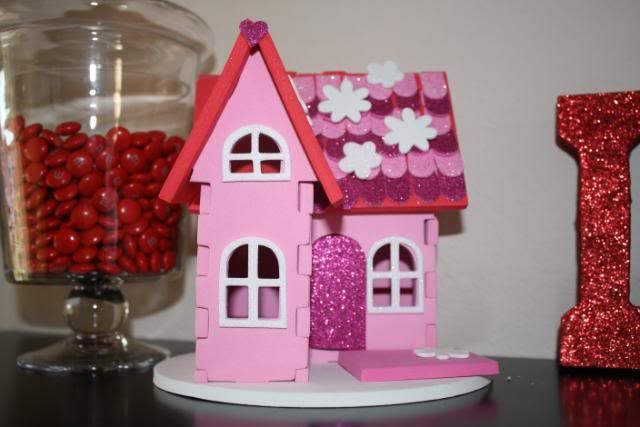 See how proud she is??? LOVE her!
So I guess we all know what I will be doing this week… working on that list up there! I *have* to get it all done!
Kelly
linking up here