Actually, technically here in Southern California, you can pretty much wear flip flops year round. But I know that's not true for everyone. Oh how I love my flip flops. They are a permanent fixture on my bedroom floor. As soon as I get home from work, off go the work shoes and on go the flip flops!
It seems I have passed on this love for flip flops to my oldest daughter (I haven't seen baby flip flops yet, but I would totally buy them for the baby! LOL). She LOVES to wear her flip flops. She is a shoe girl through and through. Walking through Nordstrom's she stops in the shoe department and points out which ones she likes. She is going to be trouble! Her favorite thing to do is sit in her closet and try on all her shoes. No joke.
OK- back to the point of the post- Flip Flops! Last year I took a pair of her boring (but cute and cheap!) Old Navy flip flops and added some ribbon to them. I attached the ribbon with E6000 glue and secured with alligator clips overnight while it dried. I added a poof to the center as well. (Not sure what it is really called, so I am calling it a poof. Its just sheer ribbon, I stitched along one end and then pulled the thread and it made this poof thingy)
CUTE huh?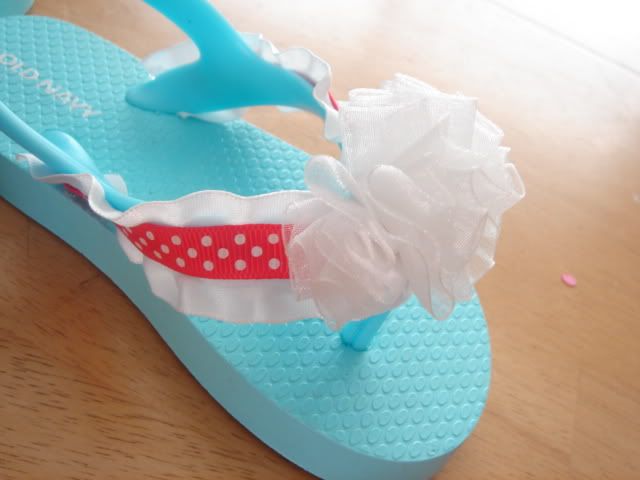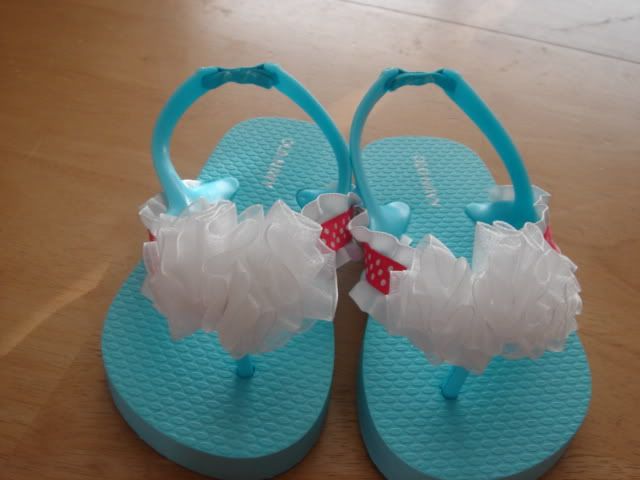 On my lovely model ( so blurry, I know. It was the only picture I had though. Sorry!)
I also made matching hair bows, just because.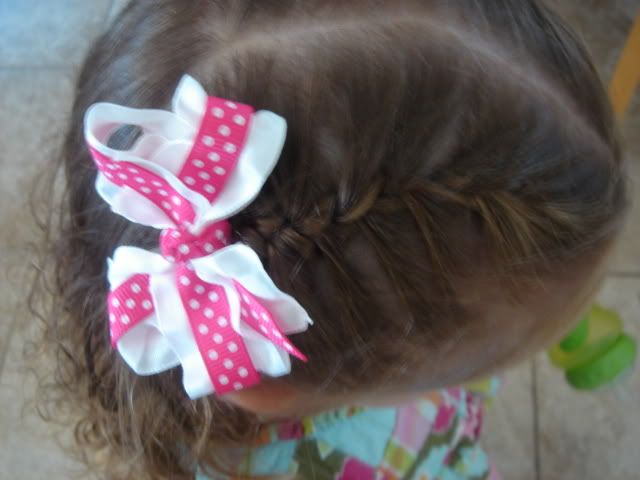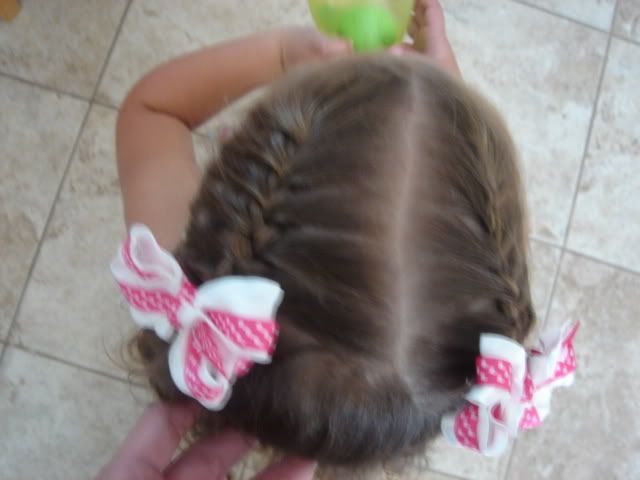 It was the end of summer when I made these, so I didn't have that many color options. I am excited to go snag a few pairs of white flip flops once they stock them again! The possibilities are endless on how you can decorate them!
Depending on the day- here is where I link up!
http://creationcorner.blogspot.com/
http://www.kojodesigns.blogspot.com/
http://justcraftytoday.blogspot.com/p/sweet-saturdays-link-party.html
http://www.yesterdayontuesday.typepad.com/
http://www.somewhatsimple.com/
http://www.paisleypassions.blogspot.com/
http://www.brandyscrafts.blogspot.com/
http://firefliesandjellybeans.blogspot.com/
http://www.houseofhepworths.com/
http://www.lilluna.com/
http://littleeme.blogspot.com/
http://www.happyhappyhousewife.blogspot.com/
http://www.craftedition.blogspot.com/
http://todayscreativeblog.net/
http://tipjunkie.com/
http://733blog.blogspot.com/
http://www.pollywantacrafter.com/
http://www.youngnester.blogspot.com/