Ok- so this is totally not a craft project, but it is a home project and I really wanted to share it. So bear with me :)
When I graduated college I moved into a one bedroom apartment and was out on my own! Exciting right? Try BORING! I had moved to a new town for a job, so I knew absolutely no one and I lived alone. Gah. So what's a girl to do? Why, get a cat of course!
Meet Zoey
Isn't she cute?
And then on a trip to Petsmart for cat food, I brought home this.
Meet Louie. (He was actually a tiny little kitten when I got him, but I couldn't find any pics from way back then)
Luckily shortly after, I moved back home to be closer to family, met my hubby and the rest is history. He likes to say I would have been a crazy cat lady if it weren't for him. Whatever.
And while I love my cats, I have always despised cat litter. I thought about taking a lesson from Meet The Parents and potty train them, but really, who the heck *really* potty trains a cat??? So I just dealt with cat litter. When we moved to our new house a little over a year ago the only place for the cat box was the guest bathroom. This also happened to be the bathroom where Sam takes her baths. Know what happens when water and cat litter mix? A big huge mess. And since I couldn't get the cats to keep the litter in the box, and I couldn't get Sam to keep all the bath water in the tub, my bathroom floor was always a disaster.
When I was about 6 months pregnant with my second I couldn't take it anymore. And since I couldn't just get rid of my cats, I had to get rid of the box. I spouted out my instructions to the hubster and he built me THIS!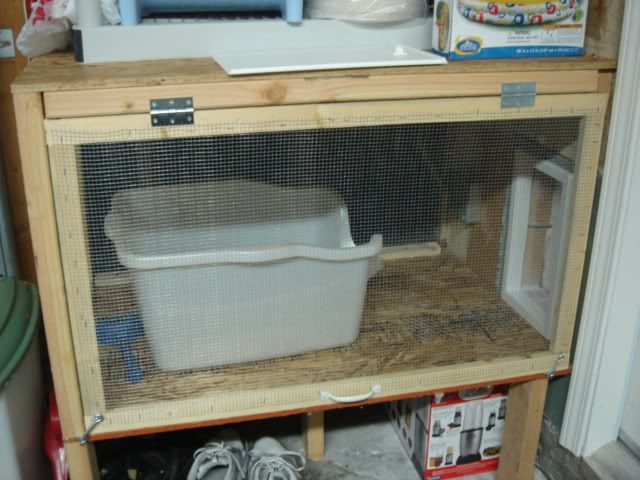 And I am sure you are looking at that going "so what!" Well- it is a BIG so what! This is in my kitchen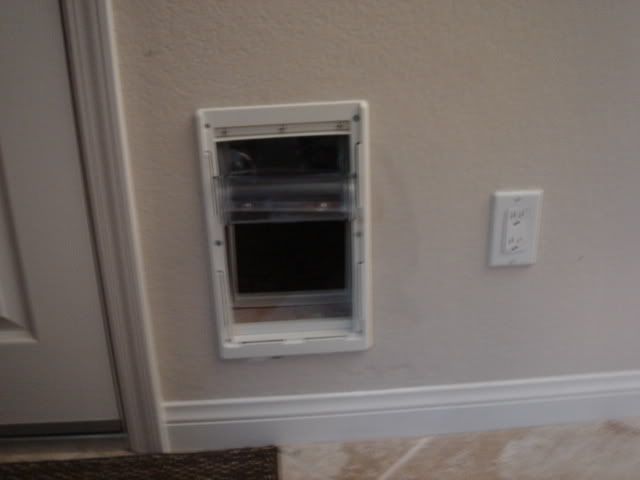 And this is in the garage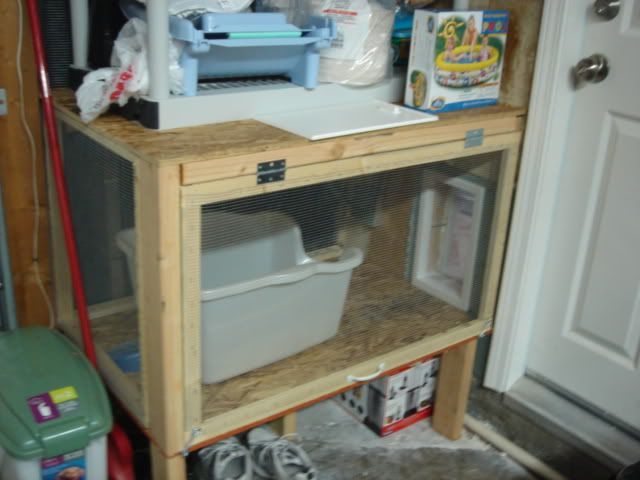 Problem SOLVED! NO more cat litter in my house!!!! Isn't it amazing??
Linking up over at