A couple years ago my BFF was hosting a shower for one of our other friends. She asked me to help with some of the decorations and of course I jumped on the chance! I LOVE parties. LOVE. THEM. I would throw a party weekly if I could. I love planning parties. I love going to parties. I love parties! :) I mean, how could you not? Good friends, good food, good times! Anyhoo- back to
this
party. There really wasn't a theme for this party, just a general shower for a baby boy.
For the centerpieces I made roses with baby socks and attached them to a stem. *I used silk flower stems- just pick the flower off (save it of course- you can use those in TONS of projects!) and then attached my sock rose with floral tape. I put them in a vase with live greenery and babies breath.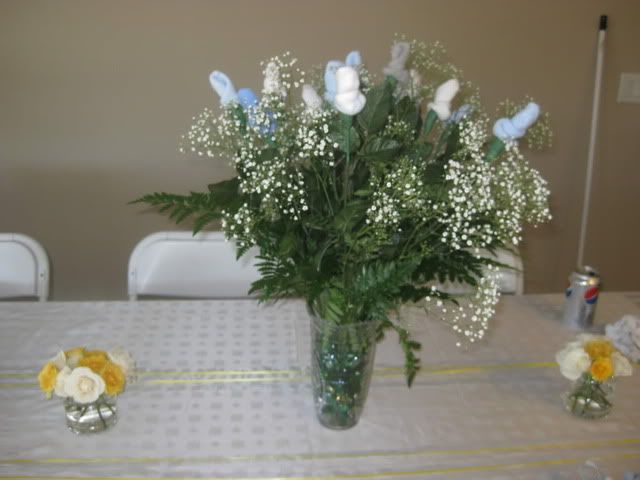 And for the mom-to-be I made her a special little corsage to wear
And then for the dessert table I made some cupcake onsies. I placed them in silicone cupcake tins, but you could of course just use regular ol' cupcake wrappers
I also made some washcloth lollipops and washcloth candies (The little blue things- those have washcloths in them).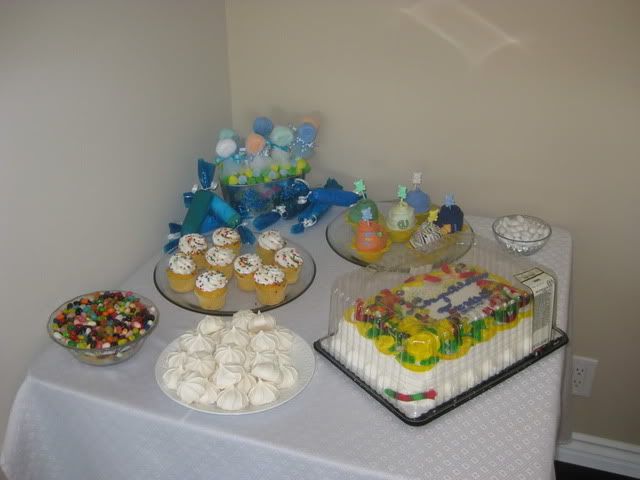 After the shower the mom-to-be was able to take all of them home and it doubled as part of her gift from me. She LOVED it. And BFF and I killed two birds with one stone- party decor AND a gift! Can't beat that!!
Linked up over at